"Like to the Lark", Chandos, Record of the Week BBC 3, 16th Nov.
Publicerad: 16 November 2019
My debut on Chandos as soloist with the Swedish Chamber Choir, Jennifer Pike, violinist and Simon Phipps, conductor, is chosen "Record of the Week" by BBC 3. Radio review 16th Nov. 2019. 
https://www.bbc.co.uk/sounds/play/live:bbc_radio_three
The CD will be reviewed in Gramophone, the January 2020 issue.
"La Mezzo-Soprano Maria Forsström vient insuffler avec authenticité ses ondes délicieuses par un chant réconfortant habité d'une douceur bienfaisante"
Classiquehd.fr
"After a welcome few seconds of silence following "The Lark Ascending", we hear Judith Bingham's "The Drowned Lovers", featuring mezzo-soprano Maria Forsström. Her rich voice with clear diction, laden with alto tones reminiscent of Kathleen Ferrier, evokes the tragic tale."
Theclassicreview.com
Oxford Lieder Festival! "Tales of the Beyond"
Publicerad: 16 November 2019
Concerts at the splendid Oxford Lieder Festival! First out my recital-ritual "Der Doppelgänger", by candlelight, boy treble from the New, and Pre-Rafaelitian dress glory. Pianist Matti Hirvonen. 
"Astonishing, other-worldly, musico-dramatic recital in New College Oxford Chapel this evening by mezzo Maria Forsström & Matti Hirvonen, delivered with absolute mastery. And what a setting!"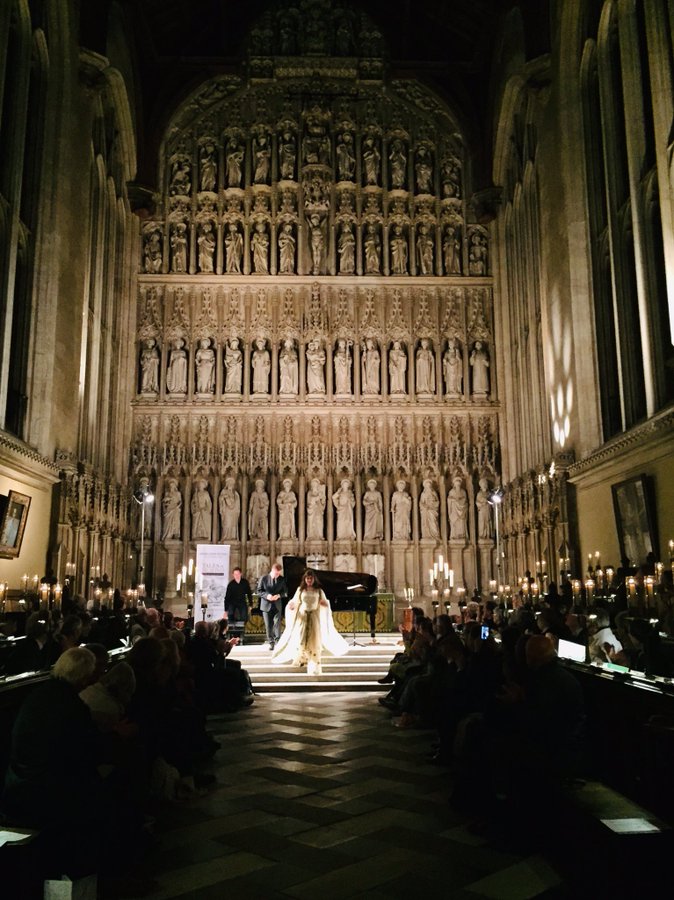 9:56 em · 16 okt. 2019·Twitter for iPhone
My sort of Galadriel, pre-Raphaelitic, Swedish National-Romantic dress. Perfect for Sibelius, Gothic horror, medieval sagas, and Viking heroines.
First prize in Varazdin 49th Baroque Festival in Croatia!
Publicerad: 16 November 2019
Much honoured to have been awarded first prize in the Varazdin Baroque Festival as "best interpreter of Baroque Music". An all Italian-English program, "Madness and Devotion" with my brilliant co-musicians Dohyo Sol, theorbo and Baroque guitar and Peter Lönnerberg, harpsichord and chamber organ, was performed in four concerts during the festival. The lengthy motivation translated from Croatian to English says thus: 
"The jury's motivation: The Jurica Murai award for best artistic interpretation is awarded to Maria Forsström, the mezzo-soprano who performed with the La Serenissima ensemble in a concert called "Madness and Devotion", held at the 22nd Sep 2019 at 11 am at the Sermage Palace. 

MOTIVATION
Many excellent soloists and ensembles that are dedicated to music from the Baroque period in the form of authentic interpretation came from the Swedish Kingdom, the partner country of the 49th Baroque Evenings in Varaždin. 

Mezzo-soprano Maria Forsström performed with two instrumentalists in a trio called La Serenissima. Dohyo Sol, theorbo, and Peter Lönnerberg, harpsichord, and organ are excellent and above all experienced instrumentalists, but the most admiration were caused by the interpretation of the mezzo-soprano with her outstanding singing skills. 

The program which included the work of famous and less famous baroque composers was titled "Madness and Devotion". The program represented Giovanni Felice Sences, Claudio Monteverdi, Henry Purcell, Barbara Strozzi, Johannes Kapsberger, Girolamo Frescobaldi, Stefano Landi, Domenico Mazzocchi, Bernardo Pasquini and Giulio Caccini. Except for instrumental compositions, Purcell's Suite in g-minor for the harpsichord and Kapsberger's Toccata Arpeggiata for the theorbo, all other works belonged to the singing repertory with lyrics about strong feelings that can come close to love, madness or about total commitment to emotions which is often accompanied with tears and disappointed lovers. 
 
Maria Forsström is a singer with a confident, penetrating voice, which is moving in its coloratura, and especially expressive in terms of technical finesse and dynamic nuances.
The mezzo-soprano presented herself with a selection of songs whose poetic contents are dramatic, because in most cases their theme was a despised and deceived love as well as intense sadness caused by love afflictions, hence about the affects that the Baroque composers could very adequately express through musical means, chromatic shifts and impressive melodic and harmonic combinations, as an artist able to use her voice to breathe tragedy into the music and revive the typically baroque pathetic expression.
In this way, their performances and the entire stage performance are very faithful testimonials of the possibility to interpret the music production of the Baroque period nowadays, so that it can awaken and evoke in the modern listener the compassion and the true experiences that were the fundamental intentions of the authors of text and music in bygone times.
One can therefore speak of the archetypal features of human sensuality, which the Swedish mezzo-soprano invokes in a particularly convincing manner."
Thank you, Varazdin, hope to see you again!